Our society is becoming more and more health conscious, and the area of hearing conservation has not been left behind. The younger generation has learned that simple and inexpensive steps can be taken that will significantly reduce the potential for hearing loss in the future. Avery Sound Company is here to help.
While simple and inexpensive foam earplugs can provide significant hearing protection, they have limitations. The foam earplug must be correctly placed in the ear canal with sufficient depth to provide the advertised level of noise attenuation. Few people take the time necessary to position these foam earplugs correctly, and therefore most people are not receiving the full noise reduction benefits they are seeking. Since these foam earplugs need to be rolled tightly with the fingers before placement in the ear, any dirt and bacteria on the fingers will now be introduced into the ear canal leading to the possibility of irritation and/or infection.
Avery Sound Company has another solution. We carry a variety of custom molded noise protection earplugs for different applications that will eliminate these limitations.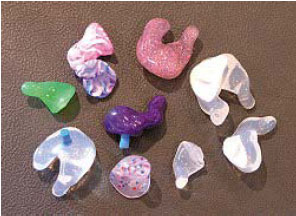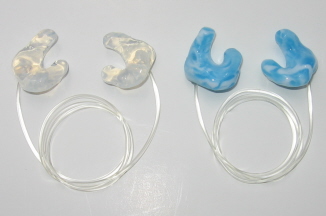 If your goal is to block out as much sound as possible, the JB1000 Noise Protectors are the product of choice. These new generation Noise Protectors provide exceptional seal and comfort while providing the user with the hearing protection desired. A properly fit set of Noise Protectors can provide up to 28dB of noise reduction.
These earpieces are recommended for moderate to high noise level environments and are designed to block the full spectrum of sound. Noise Protector earpieces are available with recessed handles for easy use or can be ordered with an attached cord.
If your earplugs are going to be used for sleeping, we recommend "Canal Only" earplugs for the most comfort. When ordering, write "Canal Only" in the comments section. Canal-only earpieces require deep impressions. See deep impression advisory.
---
If you are looking for variable levels of hearing protection with one set of earpieces our EP2's are the product to consider. The EP2's incorporate a variable valve that can be fully closed providing maximum hearing protection or opened fully to provide near normal hearing with the earpieces in place.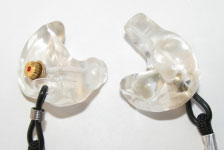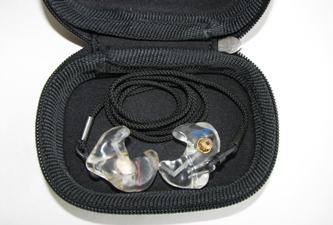 These earpieces are now available in acrylic and satin soft. The earpieces shown above are in the Zipper Pouch which is also available for purchase below. This product does require professional deep impressions. E-mail us for details on this process.
---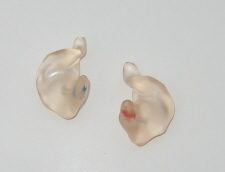 If your goal is to block loud impulse sound without losing your ability to hear other sounds, our Sound Attenuator Earpieces would be the product of choice.
These earpieces incorporate a small baffle to provide protection for the occasional gunshot, and at the same time allow the hunter to communicate with others and enjoy the world of outdoor sound.
---
If you are seeking hearing protection but cannot work in the muffled world of foam earplugs, our Flat Attenuation Earplugs would be the product of choice. A flat noise attenuation earplug provides protection, and yet allows the user the ability to hear accurately. The ER-9, ER-15, and the ER-25 have been developed to meet this need. These custom earpieces are used by musicians, sound crews, recording engineers, dentists, and frequent air travelers. The higher the filter rating, the higher the level of noise attenuation
The flat attenuation earpieces shown to the right are in the full shell style. This style can be obtained by using our at-home impression kit which will be shipped to you when your order is placed. If you require maximum levels of hearing protection we recommend deep impressions. See "Deep Impression Advisory" when ordering.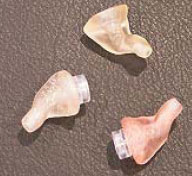 The flat noise attenuation earplugs shown to the left are in canal only style. This style is used when the user would like the earplug to be as inconspicuous as possible. This style can only be made from deep impressions which can be obtained from any audiologist or hearing aid center. We will e-mail you an order form with the information needed to mail your impressions in to our lab.
All our noise protection earplugs can be ordered in a wide variety of colors and there is even a glitter option for that personalized touch.